The Fisheye-Hemi is a plug-in for Photoshop or Aperture. The version we used was for Photoshop CS3 on a Mac. The Plug-In comes with three different filters, one for each type of fisheye: Circular, Full Frame, and Cropped. Once the plug-in is installed, the filters are accessed through the Filter menu. According to Image Trends, the creator of the Fisheye-Hemi, the most important aspect of the plug-in is "to not distort people, no matter where they are in the image."
How does it work?
Most fisheye correction tools works by mapping 180-degree fisheye view into a rectilinear view. Essentially, this straightens all of the lines of the image and gives you a field of view very similar to that of an ultra-wide angle lens. This can be great for certain applications (architecture, landscape) but usually results in heavy perspective distortion of people or objects. It also results in the loss of a good amount of the original image data (mostly on the edges). Below is an example of what transforming a fisheye image to a rectilinear image would look like.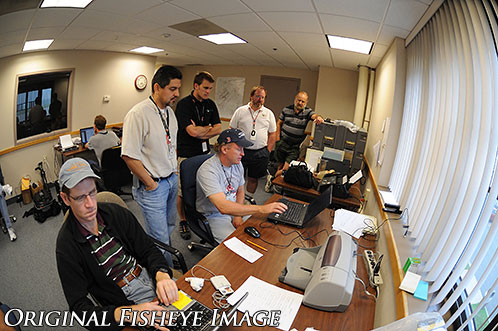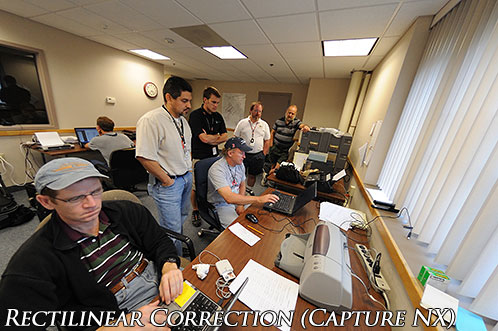 Nikon D3 (DX Crop Mode) with 10.5mm f/2.8 | Image Courtesy of Paul Gardner
Notice how the rectilinear correction distorts most of the subjects in the shot, especially those in the corners of the image. This view is very typical of a rectilinear image since its purpose is to straighten all of the lines. Also, notice how some of the original image is missing due to the rectifying of the image. The Fisheye-Hemi Plug-In differs because it mostly straightens the vertical lines, provides a much more "normalized" view, and still retains most of the original image. Let's see how it works.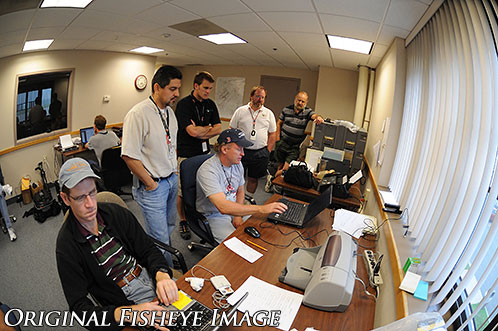 Nikon D3 (DX Crop Mode) with 10.5mm f/2.8 | Image Courtesy of Paul Gardner
For this image I used Fisheye-Hemi 2, which is designed for a fisheye lens that covers the full frame of the image and provides a 180-degree field of view. Notice how the Fisheye-Hemi image contains much more of the original image than the rectilinear correction. The other thing to look at is how the right and left of the frame have been straightened out, but you still have some of the "fisheye" look on the top and bottom of the frame. The most important thing to look at is how the people in the image appear very normal and not distorted.
Camera Compatibility
The Fisheye-Hemi is compatible with most camera and fisheye lens combinations (a full list can be found here). Circular fisheyes are corrected with Hemi 1, full frame (180-degree view) fisheyes with Hemi 2, and cropped fisheyes with Hemi 3. Unfortunately I was not able to get any images from a circular fisheye for the review, but I was able to get a shot from a cropped fisheye:




Canon EOS 1D Mark II N with 15mm f/2.8 | Image Courtesy of Camilo Arevalo
The distortion and amount of correction is not as great in this case since you are using a fisheye designed for a full-frame sensor on a slightly cropped body. Even though there is only a slight amount of correction with this filter, you can clearly see it makes a difference on the people.
What About Non-People Shots?
Even though the Plug-In is made specifically to make people shots look more pleasing, it also produces some very interesting effects with non-people fisheye shots. Here are a couple of examples:




Nikon D300 with 10.5mm f/2.8




Canon EOS 1D Mark II N with 15mm f/2.8 | Image Courtesy of Camilo Arevalo




Nikon D3 (DX Crop Mode) with 10.5mm f/2.8 | Image Courtesy of Paul Gardner
Conclusion
If you own a fisheye lens, this software is an extremely useful tool. It makes your fisheye lens more practical for everyday use and not just for special effect shots. The only complaint I had is that the software does not provide any kind of before/after view before you apply the filter you want. The filter does work pretty fast so this isn't really a deal breaker, but it would be a nice feature. At $29.95, the Fisheye-Hemi is very affordable and provides very unique results.
Special offer for my readers
Order the Fisheye-Hemi for Windows, Mac or Aperture here and receive 10% off!
Enter coupon code: Savvy to receive a 10% discount on any purchase with Image Trends Inc. To purchase the Fisheye-Hemi Plug-In, click on the version you need below.
Buy Fisheye-Hemi Plug-In for the Mac

Buy Fisheye-Hemi Plug-In for Aperture (Mac)

Buy Fisheye-Hemi Plug-In for Windows
Special Thanks
I'd also like to give a special thanks to Paul Gardner and Camilo Arevalo for providing images for me to test the plug-in out with. You can visit their websites through the provided links, be sure to check them out.